Working at SEG Automotive.
Master the challenges of future mobility with us – as part of our team of about 6,000 employees in 14 countries.
SEG Automotive is a leading global supplier of mild hybrid e-machines, starter motors and generators – with the clear goal of also becoming a technology leader for e-mobility.
We offer you a fulfilling, challenging, secure job that contributes to society and provides you ample opportunities for personal and international growth.



Key reasons to work for SEG Automotive
Compensation and benefits: We offer you a competitive salary, a wide range of additional benefits – like pension plans – and high job security as a global leader in the automotive industry.
Personal learning and development: We promote your individual development and competence improvement by offering an extensive, worldwide training program. You can take an active role in shaping our company and the future of mobility.
Great working environment: We combine the strength of global player with the short decision paths and culture of a mid-sized company. We care for our employees - in fact, our diverse, cross-cultural and international teams are the foundation for our success.
Working for SEG Automotive means something: We contribute to climate protection by significantly reducing CO2 emissions and supporting the transition towards more efficient combustion engines, 48V hybrids and electrification. We are equally dedicated to being a reliable, long-term business partner with sustainable economic success.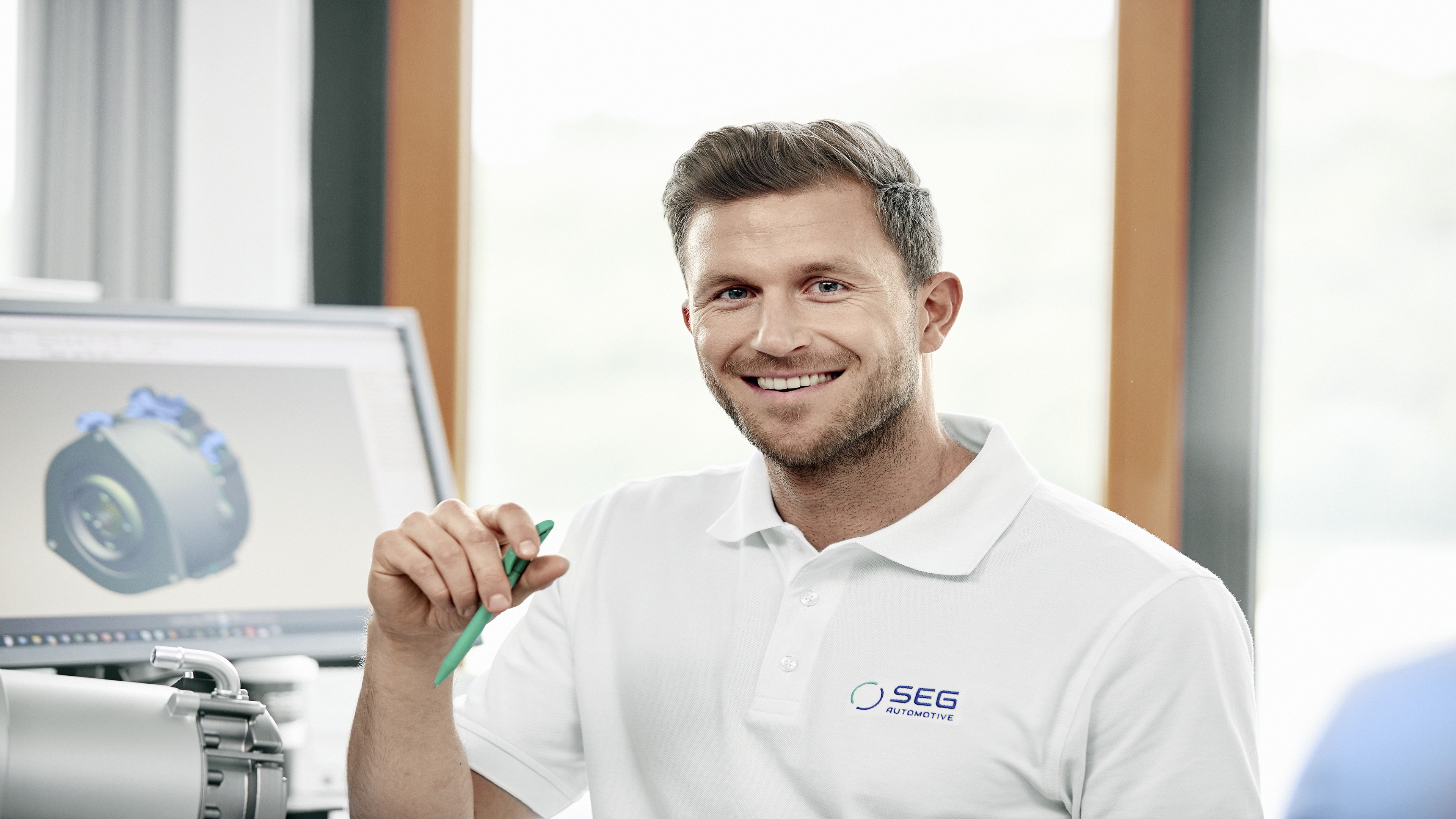 As an highly competitive person, Mauricio is always willing to overcome his own limits. He joined SEG Automotive as a Quality Engineer in 2018 and is now part of our customer team. What makes him really special is that he completed his first Ironman Race last year: A triathlon, which consist of a 2.4-mile (3.86 km) swim, a 112-mile (180.25 km) bicycle ride and a 26.22-mile (42.20 km) marathon run. The Ironman is widely considered to be the most difficult one-day sporting event in the world.
This race requires not only physical preparation, but also mental focus and dedication. Leading up to the big day, Mauricio trained for 9 months with this race in mind – while also fulfilling all his daily duties at work. SEG Automotive enabled him to arrange his office hours to fit his training schedule and work from home when necessary. This flexibility has also helped him to balance his extensive training sessions with his personal life, so his family would not feel so much the impact of his trainings. His manager has also been very supportive, encouraging him to keep pushing for his dream and even following his progress during the race.
"I am constantly looking for new challenges that take me out of my comfort zone, and this is also why I like to work at SEG Automotive. When you train to deliver high-performance results, it is not just something that helps you in sports. It is a state of mind, it is a way of life that drives you towards excellence, no matter if it is in your personal or professional life."

Two years ago, she joined our team in Portugal as an intern in the finance department. As her nine month internship came to an end, there were no open full-time positions in finance. However, a new position was about to be created in Sales. At SEG Automotive, we always first look at our internal talent pool. We keep track of our associates talents, strengths and interests to provide them long term career opportunities. The expertise Inês had acquired in Finance translated very well to the position of "Accounts Receivable" – where she is now in direct contact with a wide scope of customers, but also serves as an interface to our sales teams and finance department.
"When my internship ended, SEG Automotive gave me the opportunity to use the expertise I built up and apply it to a new area in a full-time position. They took into consideration the strengths they knew I had – so I did not have to start all over again – and supported me in making the change from finance to the sales department. I am very happy with this new role of working closely with our many customers as well as our sales and finance teams."