"We are the motor – for the mobility of today and tomorrow"
In a rapidly shifting automotive environment, SEG Automotive aims to continue its role as a strong enabler for innovation and change. Under the vision We are the motor – for the mobility of today and tomorrow, the global supplier emphasizes its 100-year history and stakes its claim in the market of the future.
"Mobility is an intrinsic human desire – and we at SEG Automotive have been its motor since in 1914," explains Ferdinando Sorrentino, CEO of SEG Automotive. "Our powertrain components power over 300 million vehicles on the road today. And, beyond that, we have also been a continuous motor for innovation in our field – from the first starter motor to 48V hybridization, light electric mobility and now high voltage solutions. With our vision, we express our desire, and confidence, to extend this role as the 'motor of the mobility of today' into the future."

Unique combination of expertise & speed
Continuing to compete at the highest level as the automotive industry shifts to e-mobility is not a given – especially for a mid-sized company like SEG Automotive. CEO Sorrentino, however, is confident: "Our history and large market share put us in a unique position in the industry: We bundle immense e-machine and manufacturing competence and a global production network in a mid-sized company. This allows us to seize opportunities for which our global competitors are too slow, and which surpass the technical & industrialization expertise of local suppliers." A prime example for this is the rapidly growing light electric mobility segment in India, where SEG Automotive has quickly established itself as a technology leader.
To translate its 100 years of e-machine competence also into solutions for high voltage electrification, the global supplier has increased investments and shifted capacities over the last years. "Already today, we have a fully flexible platform that encompasses a scalable e-machine, software and electronics. But we are also highly adaptable to specific customer needs – in a way, our competencies are our product. So, depending on the project, our contribution can range from delivering a full 3in1 system solution with partners, to providing specific components or highly specialized engineering services," explains Rüdiger Benz, Senior Vice President Engineering at SEG Automotive.
SEG Automotive is further accelerating its breakthrough in electrification with the SEG Automotive e-Drive System Company, launched in China earlier this year with an initial development budget in the double-digit millions. "The rapidly growing Chinese high voltage market is quite special in terms of diversity of products, technology & speed requirements, and policy," says Paul Sun, Regional President of SEG Automotive China. "To seize these growth opportunities, we are developing high-voltage solutions tailored to the local market and OEMs right here in China – based on our existing know-how and in intensive exchange with our colleagues in Europe."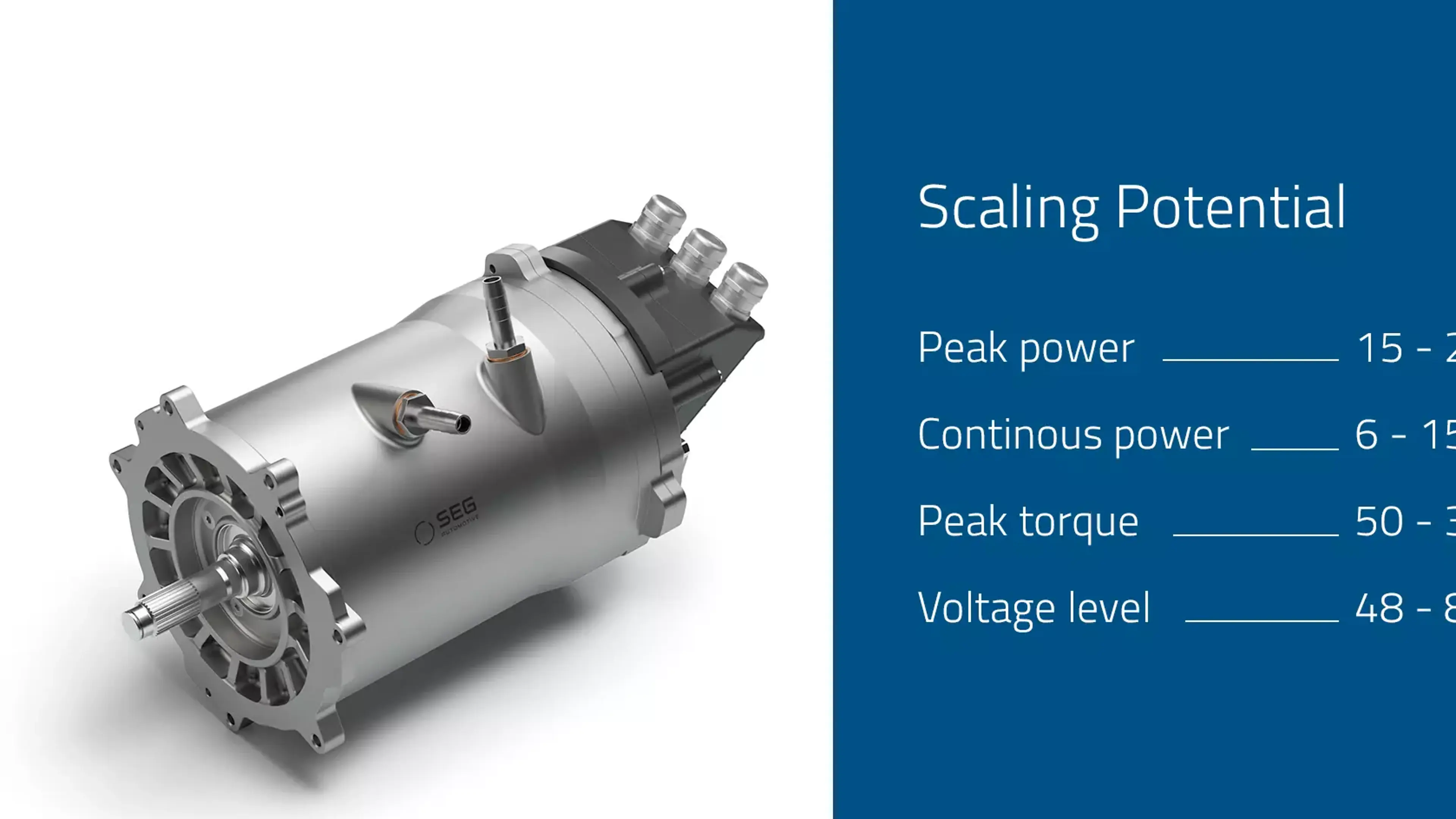 Strong revenue contributions from conventional business and aftermarket
In parallel, SEG Automotive aims to defend – and even extend – its role as a leading supplier for the 12V business for passenger cars and commercial vehicles. "With our market position, global production network and cost competitiveness, I see great potential to win additional market shares and ultimately become the last man standing in the conventional business. This, along with continued growth in the aftermarket and 48V, means a strong base of revenue, while being ready to pounce on opportunities in electrification," says Rüdiger Benz.
At the core of this vision are the people at SEG Automotive. "It is the competencies of our diverse global team – for development of e-machines, software and electronics, for manufacturing and industrialization, for robust quality and processes, for mitigating supply chain turbulences and market shifts, for market needs and cost work – that allows a mid-sized company like ours to compete at the highest level. They are the motor for our success – and will allow us to live up to our vision," Sorrentino concludes.